On May 19 Matrox Imaging announced the launch of the Matrox Iris GTX Enhanced Smart Cameras, the "next evolution" of smart cameras from this dynamic, Dorval, Quebec-based company that will hit the market in Q3 2021. The Matrox Iris GTX is a machine vision and deep learning edge IoT device designed to handle traditional machine vision operation and deep learning inference.
Higher resolution and faster processing
What makes the Matrox Iris GTX so special? For starters it boasts an Intel Atom x6000 series embedded processor that allows the Matrox Iris GTX to use higher-resolution complementary metal-oxide-semiconductor (CMOS) image sensors from two to 16 megapixels —which drives performance to unprecedented heights for a compact all-in-one vision system. The graphic below makes it clear just how much better the Matrox Iris GTX performs compared to its immediate predecessor, the Matrox Iris GTR.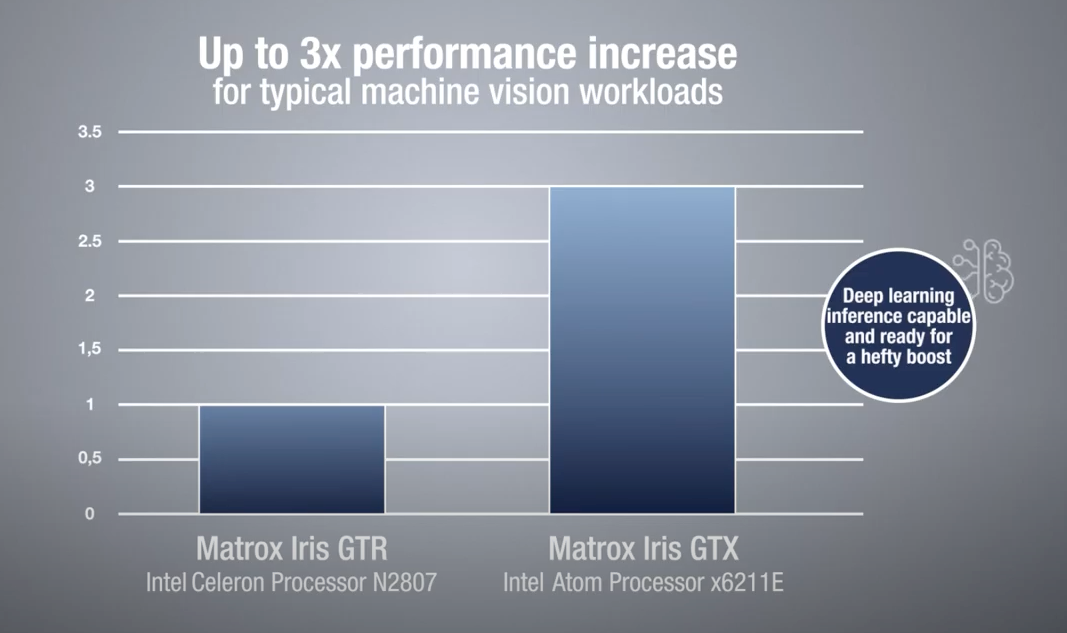 The performance boost derived from the Matrox Iris GTX's processor and image sensors allow the cameras to capture high-resolution images at high speed, which translates to more detailed inspections that provide users with additional critical information.
Matrox Design Assistant® X1 software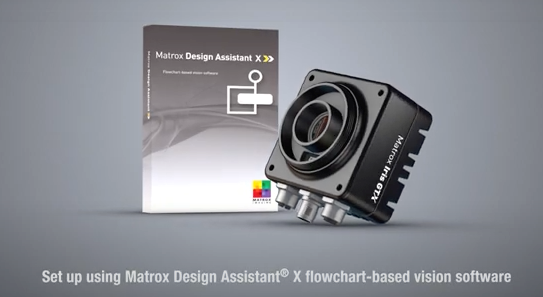 Paired with flowchart-based Matrox Design Assistant® X1 software, engineers and technicians can quickly configure and deploy machine vision to the Matrox Iris GTX smart cameras. Video capture, analysis, classification, location, measurement, reading, verification, communication, and I/O operations—as well as a web-based operator interface—are all set up within the same software. With Matrox Design Assistant® X1 software you can choose from a wide variety of image processing and analysis tools including image classification using deep learning.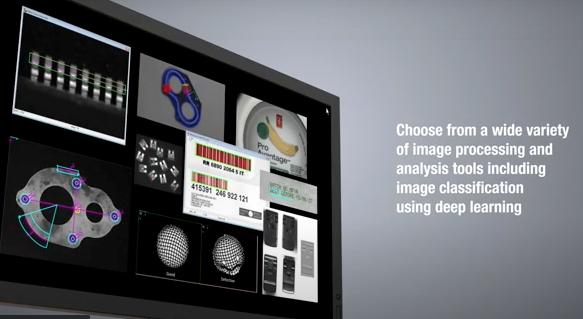 The Matrox Iris GTX is pre-licensed for pattern recognition (PatternMatching step), feature extraction and analysis (BlobAnalysis step), 1D and 2D measurements (Measurement, BeadInspection, and Metrology steps), color analysis (ColorMatcher step; GTX…C model only), 1D and 2D code reading and verification (CodeReader and CodeGrade steps), 2D calibration, basic image processing (IntensityChecker, ImageProcessing, and EdgeLocator steps; not EdgeFinder), image compression, and industrial communication.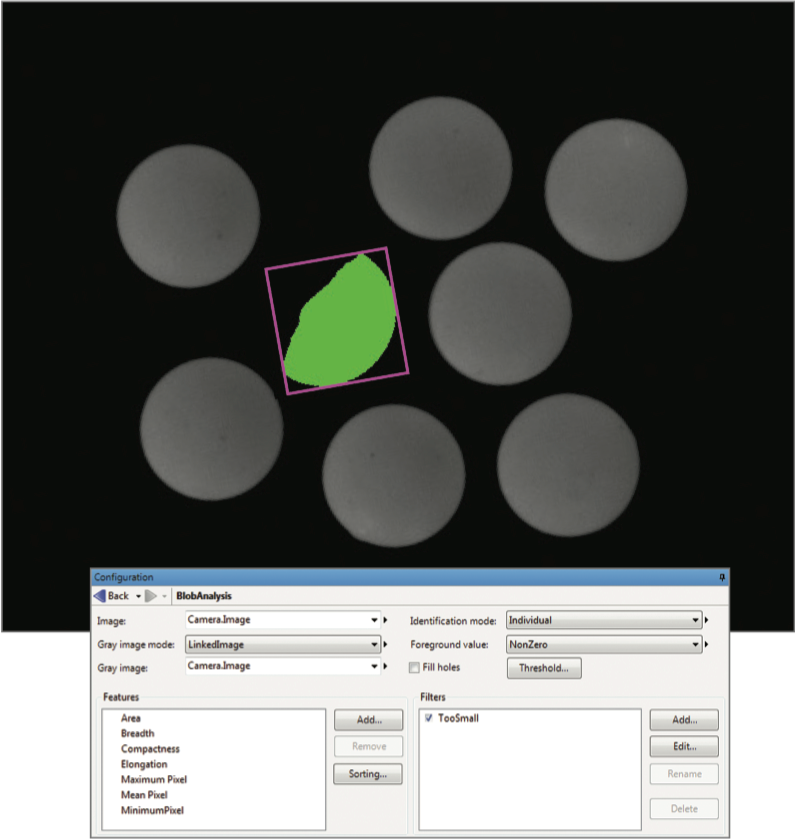 BlobAnalysis step in Matrox Design Assistant X used to identify, count, locate, and measure basic features and objects (i.e., blobs) to determine presence and position, and enable further inspection.
Built for harsh environments, ease of upgrade and use
Matrox Iris GTX smart cameras preserve the same small footprint and cabling connections as its immediate predecessor, for ease of upgrade and implementation. They feature a sturdy, compact IP67-rated housing and robust M12 connectors for their external interfaces, allowing them to operate in dusty, wet, and other demanding conditions. By offering the same footprint, connection options, and software platform as the Matrox Iris GTR, Matrox Imaging makes it easy to expand or upgrade an existing system. The Matrox Iris GTX line also features an interface for direct focus adjustment, as well as an LED lighting intensity control output for direct adjustments, directly through the on-device software.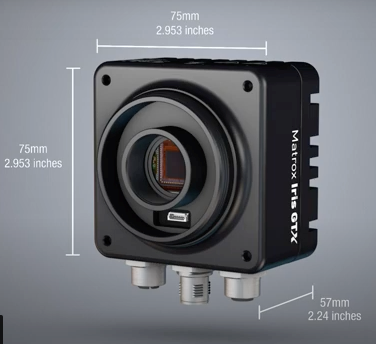 Direct interfacing to automation devices
Another benefit of the Matrox Iris GTX smart cameras is that they also offer real-time digital I/Os for interfacing directly to automation devices. They provide GigE and USB ports, and a VGA video output to enable full integration within an automation cell or machine.
Purchase
The Matrox Iris GTX is the "next evolution" of smart cameras from Matrox Imaging and will be available in Q3 2021. To learn more and request a quote, click here.