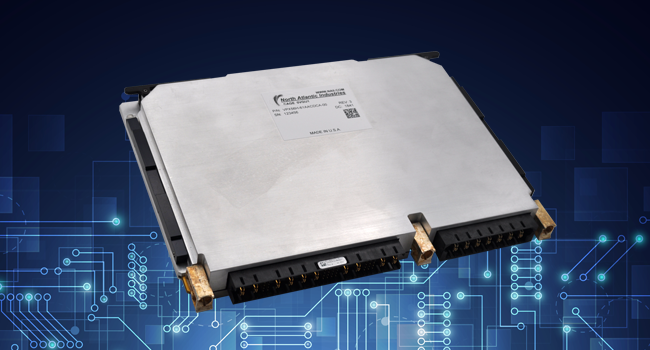 Rugged, off-the-shelf power supply solution ready to roll
In April, North Atlantic Industries, Inc. (NAI), a leading supplier of embedded computing solutions and power supplies that Integrys is proud to represent in Canada, announced the availability of the VPX56H2-6 1,400-Watt Ruggedized, Programmable Power Supply.
SOSA™ Aligned
The VPX56H2-6 power supply unit is aligned with SOSA™, the main aim of which is to speed up and simplify the development and deployment of C4ISR systems (joint battle management that can gather data, understand it, and communicate freely with all of its components) based on open standards components. SOSA aligned systems are based on a multi-purpose backplane that allows for easy reconfiguration of the VPX Plug In Cards (PICs) to create Electronic Warfare, Signal Intelligence, RADAR or other sensor-based systems. Enabling future technology upgrades and reconfiguration are two key benefits of SOSA aligned solutions that will reduce the cost and extend the useful life of these platforms.
Adaptable workhorse for when the going gets heavy
Designed to meet the many harsh environmental requirements of rugged military and aerospace applications, NAI's VPX56H2-6 plugs directly into a standard 6U VPX chassis with a VITA 62, 1.0" power supply slot. This off-the-shelf solution for VITA 46.0 and VITA 65 systems is:
Compatible with VPX specifications
Supports all VITA standard I/O, signals, and features
Conforms to the VITA 62 mechanical and electrical requirements for modular power supplies
The VPX56H2-6 is conduction-cooled through the card edge/wedgelock. It operates at full load through the entire -40°C to +85°C temperature range, accepts 3Ø AC or +270 VDC input and provides up to five outputs and I/O at up to 1,400 Watts.
Output configurations include Standard VITA 62 and SOSA™ Aligned, +12V Only (with +3.3VDC_Aux) and +12V Heavy configurations. In addition, the VPX56H2 contains Integrated IPMC, with Dual Bus IPMB-A, IPMB-B.
With its intelligent design, the VPX56H2-6 also has the flexibility to address special needs and includes current share and alignment keys for input and output configurations.
The VPX56H2 is compliant with MIL-STD-810H and VITA47 as well as MIL-STD-704F, MIL-STD-461F.
Additional standard features
Continuous Background Built-in-Test (BIT)
Remote error sensing and protection against transients
Over-voltage, over-current, and short circuits
Security
"We are delighted to be teaming with wolfSSL to offer embedded security in our growing portfolio of rugged COTS SBC's," says Lino Massafra, VP of Sales and Marketing at NAI. "North Atlantic Industries takes security seriously and is working hard to protect our solutions against cyber threats. Aligning with wolfSSL helps achieve this."
About NAI
NAI is a leading independent supplier of embedded computing, Input/Output, communications, measurement, simulation, power and systems products for commercial, industrial and military applications built on a Configurable Open Systems Architecture™ (COSA®). COSA offers the greatest modularity, flexibility, adaptability and configurability in the industry that accelerates time-to-mission. COSA supports a Modular Open Systems Approach (MOSA) that delivers the best of both worlds: custom solutions from COTS components with No NRE.
For over 50 years, companies like Lockheed Martin, Boeing, Northrop Grumman and Raytheon have leveraged NAI's capabilities to meet the demanding requirements of a wide range of processing, I/O and communication-centric applications, and do so with uncompromising quality, efficiency and responsiveness.
Learn More
For additional information on NAI's latest power supply unit for rugged military and aerospace applications, click here. We look forward to discussing your power supply requirements with you.