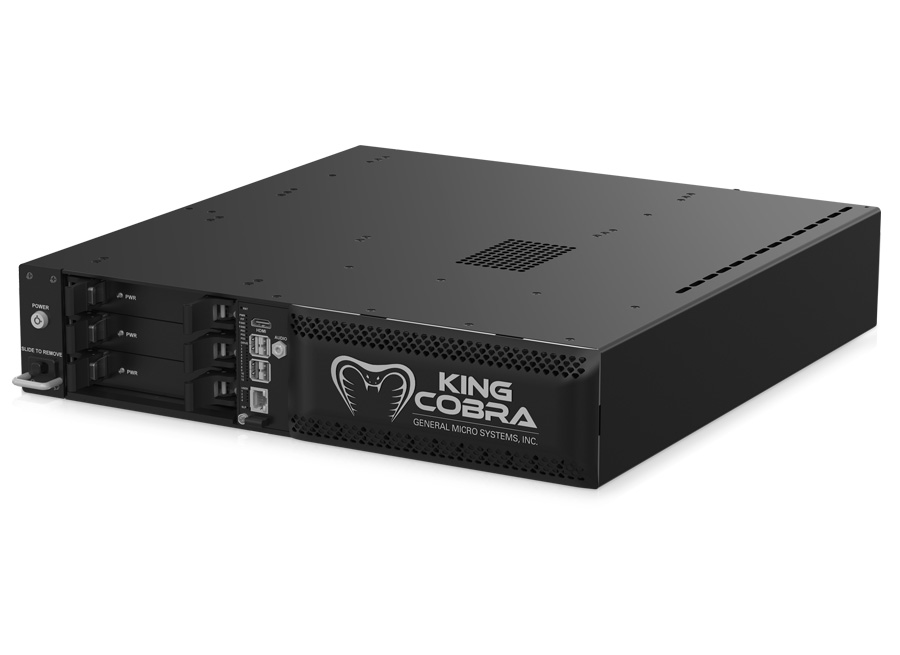 Integrys is pleased to announce the release in Canada of the "King Cobra" S2U, a major breakthrough in server technology from General Micro Systems (GMS). It is the smallest, fastest server on the market, with more I/O performance and storage functionality than any other server. It replaces several 1U/2U servers, switches/routers, RAID controllers, and Auxiliary Power Units (APU) with a single 2U, 17-inch deep rack mountable (or freestanding) enclosure.
The King Cobra provides the highest SWaP efficiency in the server market while providing 100% LRU capability for minimum downtime. The S2U is targeted for applications where ruggedness, size, power, and serviceability are key factors. Only 2U high, the S2U replaces at least four other 2U servers if you count processor power, Ethernet ports, I/O adaptation, and power supplies.
Features
Supports Dual Xeon® E5 processors, 20-port managed switch, 48TB RAID storage and Quad NVIDIA® GPU
Fully scalable server utilizing standard OpenVPX and PCIe modules
Supports two 6U VPX, modules, three 3U VPX modules and four full-length/height PCIe modules
Supports twelve 2.5" removable storage devices such as x4-PCIe Enterprise SSD and SAS/SATA drives
Supports removable UPS for orderly shut down and power transits (omit PCIe Card cage)
Dual removable fan trays with twelve Smart fans for quiet, efficient, redundant cooling
Triple redundant, hot swappable 3U VPX AC/DC Power Supplies for N+1 Power
Ultra-low SWaP, only 17" x17" x 3.25" @ 30 lb. and as low as 300W
Fully compliant to MIL-STD 810G, MIL-STD-1275D, MIL-S-901D, DO-160D, MIL-STD-461E and IP65
Contact Integrys at clientservice@integrys.com or 1-888-509-8455 to learn more about GMS products.