New Supplier: Techaya Rugged Design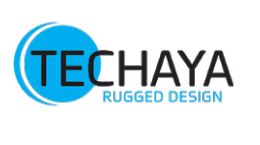 TECHAYA
 is a leading designer, developer and manufacturer of rugged MIL-STD IP-based communications solutions for ground, air and naval applications. They offer a broad range of Ethernet switches, routers, USB hubs and media converters for the military and aerospace applications.
"We see Techaya as a technical leader in Ethernet switches, routers, and USB hub products for military and aerospace applications. We are thrilled to begin working with Techaya as their Canadian partner"
– Wayne Mason, General Manager, Vice President, Integrys Ltd.
"We are confident that Integrys are the perfect match to introduce Techaya products to the Canadian market, placing the same value on engineering capabilities and innovation".
– Zak Sucher, Business Development Manager, Techaya

---
Techaya: Miltech Product Lineup
Browse top Techaya products
MILTECH™ 402

 features mechanical packaging enhancements designed for MIL-STD-810F airborne and ground environmental compliance and high reliability. The unit has been especially hardened to improve ingress, impact, and shock/vibration protection. Passive cooling allows for the elimination of moving parts. Sealed connectors ensure protection against water and dust.

The

MILTECH410

 outfits soldiers in the digital battlefield with a lightweight, fully integrated infantry combat ISPDS systems. Techaya offers a range of lightweight adaptable systems that are ideally suited for frontline forces in the most complex modern battlefield scenarios.

Modern platforms contain dozens of network devices that must be interconnected. The MILTECH 907 is an ideal solution for mobile Ethernet-equipped platforms. With the best combination of size, weight, power and cost (SWaP-C) in the industry, it saves valuable real estate for computers, sensors, targeting systems, and other devices that make mobile platforms highly effective.

Techaya military rugged serial over USB unit

MILTECH 16SER,

enables one way data transmission for securing information breach from classified networks to unclassified domains. The portable rugged Serial unit was developed specifically for new cyber threats existing in today's networks, providing new security features and capabilities for protecting critical systems.

---
 About Integrys
Integrys
 is the trusted source of embedded computing, imaging technology, engineering know-how and local support for aerospace, defence, healthcare, manufacturing, public safety, telecom and transportation. Over 50 years of experience gives us the strategic insight and technical savvy to help you succeed.
Connect With Us
Wayne Mason
General Manager / VP Sales & Marketing