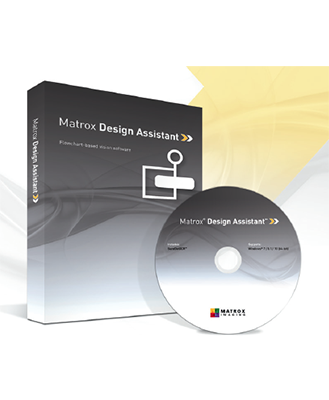 Integrys is pleased to announce that in Q2 2019 one of our long-trusted suppliers, Matrox Imaging, will officially release Matrox Design Assistant X, the latest iteration of Matrox's innovative, field-proven flowchart-based application software that has made its mark over the last 10 plus years. This integrated development environment (IDE) lets developers build intuitive flowcharts instead of writing traditional program code, and enables them to develop a graphical web-based operator interface for modifying the vision application.
Matrox Design Assistant X represents a significant upgrade and expansion of Matrox Design Assistant, offering a host of new features and functionality that take the software to a new level. Below are some of the highlights.
Deep learning for image classification
Matrox Design Assistant X has a new classification step that uses deep learning to categorize images of highly-textured, naturally varying and acceptably deformed goods. Matrox Imaging does the design and training of the neural network so Matrox Design Assistant X users can benefit from the knowledge and experience of Matrox machine vision experts.
Photometric stereo for emphasizing surface irregularities
Matrox Design Assistant X also has a new registration tool that employs photometric stereo technology for creating composite images that emphasize surface irregularities, such as embossed or engraved features, scratches, and indentations, all from a series of images captured with directional illumination.
Third-party 3D sensor interfacing
Matrox Design Assistant X makes it possible to capture and process depth-map data by interfacing with third-party 3D sensors.
Additional features and functionality
Compatible with the Matrox 4Sight EV6 vision controller, Matrox Iris GTR smart cameras, and PCs in general.
Supports multiple run-times, allowing users to run simultaneously multiple independent projects on the same PC. This feature is versatile and powerful—and unique for this type of software. It allows customers to take full advantage of the capabilities of modern, multi-core CPUs.
A new dedicated shape-finding step for locating circles, elipses, rectangles and line segments.
Matrox Design Assistant has long been used by a broad range of customers, including high-profile manufacturers in the automotive, food and beverage and packing industries. Such customers use the software to perform tasks such as crucial error-proofing verification, quality control assessments, as well as ID mark reading of the track and trace products during manufacturing, distribution and other automated handlings. Matrox Design Assistant X is a major enhancement built on previous iterations of the software that is very powerful yet easy to use.
Pre-register below for a free trial of Matrox Design Assistant X. We will contact you once the new features are released in Q2 2019 for your opportunity to experiment with the software to see just what it can do for you.