Integrys New Product Announcement
Expanded Baumer CX Series of Industrial Cameras
Mississauga, ON July 6th, 2017  – Integrys is committed to bringing clients the newest in technological innovation and is constantly focused on providing the best service. We are thus excited to inform our clients about the further expanded Baumer CX Series of industrial cameras, which now includes the VCXU-123M, the smallest 12 megapixel global shutter CMOS camera.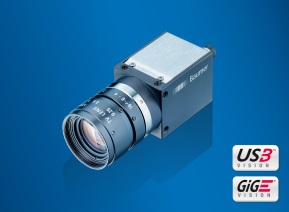 The VCXU-123M, which measures just 29 x 29 x 38 mm and has a USB 3.0 interface, is ideal for applications with demanding requirements for high-definition quality in image acquisition at high throughput, such as surface inspection, 2D/3D measuring technology, packaging inspection, and traffic monitoring.
The VCXU-123M features the monochrome Sony Pregius IMX253 global shutter CMOS image sensor, a 12 megapixel sensor with a 3.45 µm pixel size that can achieve frame rates of 31 fps. The VCXU-123M also offers low dark noise and a 71 dB dynamic range, as well as an M3 mount, and 458 MB internal buffer.
The 29 x 29 x 38 mm dimensions of the camera with M3 mounting capabilities at each side of the square housing make installation easy with maximum flexibility, even in narrow installation environments. Camera events and the integrated image memory ensure synchronized process control for long-term stability in image evaluation. Thanks to the efficient thermal concept, the cameras endure up to 65 °C housing temperature for high application versatility at excellent image quality.
For more information:
Wayne Mason
General Manager / Vice President Sales and Marketing
5805 Kennedy Road, Mississauga, ON L4Z 2G3
Toll Free Fax: 1-888-506-8455
Email: int-marcom@aca.ca | website: www.integrys.com
---
About Baumer
Baumer is an international family-owned business with a passion for sensor technology, encoders, measuring instruments and components for automated image processing. Baumer operates in more than 60 countries. Thus we are able to provide you with competent assistance, anytime and anywhere.
About Integrys
Integrys is the trusted source of embedded computing, imaging technology, engineering know-how and local support for aerospace, defence, healthcare, manufacturing, public safety, telecom and transportation. Over 50 years of experience gives us the strategic insight and technical savvy to help you succeed. Integrys is solution-focused. We work closely with leading manufacturers and actively seek ways to migrate proven transformational technology to new sectors. When it comes to the technologies that drive your business, we think ahead—so you don't have to. We connect Technology and Innovation.