Description
Osbourne is a versatile carrier board for the NVIDIA Jetson AGX Orin high-performance GPU module. It provides access to all I/O features of the Orin module and includes numerous sockets for I/O expansion. Osbourne has been designed to be used in almost any application ranging from commercial to industrial to airborne to rugged military use.
Osbourne is available as a carrier board alone or with an Orin module and fan sink installed and ready for use. A Linux OS based on Nvidia L4T and customized to support all I/O on Osbourne is available for free download.
Osbourne Carrier Board:
Flexible I/O Connector Design:

All I/O on Osbourne is accessed through a single high-speed, high-density connector along the board edge. This decouples the board design from any specific I/O connector arrangement and frees you to select whatever I/O connector scheme you want. Standard connector boards are available for typical use cases, including a panel-mount connector board for installation in an enclosure and a breakout board for use with cables.

Panel I/O Board:

The Panel I/O board provides the ability to install Osbourne directly into an enclosure without the use of cables. All I/O is provided on a series of commercial-style connectors designed to be mounted in an enclosure front panel.

Panel I/O boards can also be designed with right-angle orientation.

I/O Expansion:

Jasper includes dual PCIe minicard sockets with both PCIe and USB interfaces, supporting a wide range of I/O and communications/networking modules from Diamond as well as third party vendors. It includes an M.2 E key socket for installation of WiFi and other networking modules. Also a PCIe slot connector enables attachment of standard desktop-style PCIe slot I/O boards with PCIe x8 / x4 / x1 connection.

Mass storage is provided with an M.2 2242/2280 NVME socket and a Micro-SD card socket.
Features of Osbourne Carrier Board:
3x USB 3.2 ports
4x USB 2.0 ports
1x 1G/2.5G/5G/10G Multi-Gigabit Ethernet port
1 10/100/1000Mbps Ethernet Port
4 x4 or 8 x2 lane CSI-2 camera Interface using industry-standard adapter socket
2x software configurable RS-232/422/485 ports with TTL option on one port
2x fixed RS-232 ports
1x HDMI 2.0a/b directly from Orin module
Audio I/O via ALC5640 CODEC
8 Digital I/O via I2C I/O expander
2x CAN 2.0 ports with non-isolated transceivers
2x mPCIe full-size sockets with PCIe and USB support
1 M.2 M Key (2280 or 2242) NVMe expansion slots (4 lane PCIe Gen 3)
1 M.2 E key 2230 socket
Dimensions 120 x 115mm / 4.7 x 4.5" (Carrier board only)
Power input 7-20VDC
Operating temperature -25 to +80C (same as Orin module)
Osbourne makes available all the I/O of the Orin module in UPHY configuration 1, so application developers have access to all features without limitation.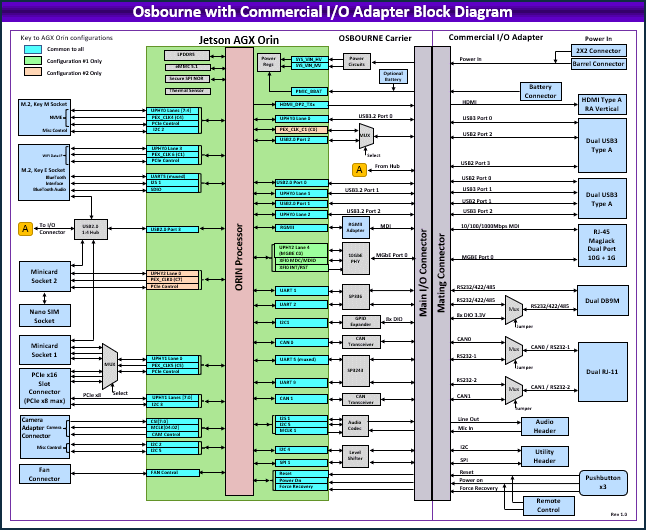 To Learn More Click Here.