Description
 
Description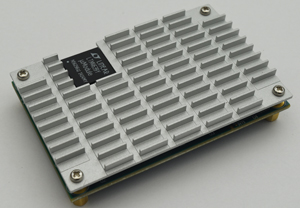 The Diamond  EPSM-10GX is a managed Layer 2+ Ethernet switch module in an ultra-compact 2.2″ x 3.3″ (55 x 84mm) size offering 24 10/100/1000Mbps copper ports + 2 10Gbps SFI ports. The module is intended to be used on a carrier board. The core Ethernet switching technology is almost fully encapsulated on the module; for many applications, only the "last inch" of magnetics and I/O connectors is required to complete the circuit, enabling easy development of custom form factor Ethernet switch solutions.
The small size, based on the industry-standard COM Express Mini form factor, makes EPSM-10GX a perfect choice for use as a building block for creating custom Ethernet switch solutions in a variety of space-demanding applications, such as drones, ground and underwater vehicles, and robots. EPSM-10GX can also be mounted on a carrier board to create quick Ethernet switching solutions in other industry standard form factors such as VPX. Customers looking for a complete off-the-shelf solution may be interested in our EPS-24G2X, which provides all of the switch's features in the industry standard 3.5 inch form factor.
The standard Layer 2 software embedded in the module provides a comprehensive set of Ethernet switch features suitable for a wide range of industrial applications. All features are manageable via a GUI web interface accessible over any port, as well as with a command language accessed via a built-in RS-232 port. A more advanced software package, offering Layer 3 routing performance as well as IEEE1588 PTP protocol, is available upon request. These features are fully supported in the EPSM-10GX hardware.
Two cooling accessory options are available: A heat sink provides convection cooling in a low profile, while a heat spreader provides improved conduction cooling for superior high temperature performance in applications where physical contact with the system enclosure is available.
Two high-speed connectors provide all power and data communications between the module and the carrier board. The first connector provides power, 9 10/100/1000 ports, the serial interface, and a serial LED data stream. Applications requiring 9 ports or less may use just this connector. The second connector contains 3 more 10/100/1000 ports, QSGMII signals for an additional 12-port PHY to provide 12 additional 10/100/1000 ports, and the 2 10G SFI ports.
EPSM-10GX is designed to meet the challenges of vehicle environments with its -40/+85°C operating temperature range and its MIL-STD-202G shock/vibration resistance.

Block Diagram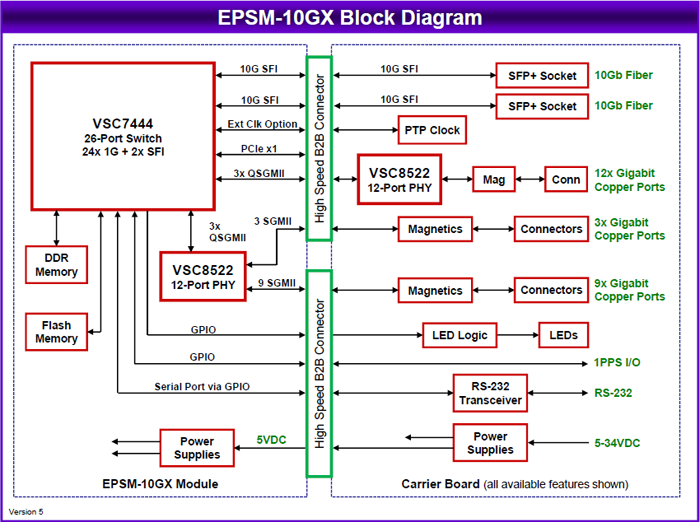 Development Support
A design guide provides instructions for incorporating the EPSM-10GX into your own circuit. Under NDA a complete carrier board reference schematic and PCB layout are available to provide the starting point for a custom Ethernet switch based on the EPSM-10GX. This design is also available off the shelf as our EPS-24G2X product.
Specifications
Ethernet Switch

24-port Layer 2/3 switch
Built-in 500MHz MIPS 24KEC microcontroller for configuration and management

Number of Ports

24 10/100/1000Mbps Ethernet ports with non-blocking wire-speed performance

On-board Memory

4Mb packet memory
Shared memory buffer with per-port & CoS memory management

MEF

Hierarchical MEF compliant policing & scheduling; MEF E-Lane, E-Line, and E-Tree services

Frame buffer

Jumbo frame support at all speeds

Network Management

SNMP v1/v2c/v3
Web GUI
Command Line Interface (CLI)

VLAN

IEEE 802.1Q VLAN switch with 32K MACs and 4K VLANs
Push/pop up to three VLAN tags
Independent & shared VLAN learning (IVL, SVL)

Multicast

IPv4/IPv6 uni & multicast group support

Remarking

Dual leaky bucket policers with remarking and statistic

Classifier

8 priorities and 8 CoS queues per port with strict or deficit-weighted round robin scheduling Shaping/policing per queue and per port

Storm Control

Policing with storm control and MC/BC protection

Classifier

8 priorities and 8 CoS queues per port with strict or deficit-weighted round robin scheduling
Shaping/policing per queue and per port

Storm Control

Policing with storm control and MC/BC protection

Link Aggregation

EEE 802.3ad

RSTP

Rapid spanning tree protocol (IEEE 802.1W) and MTSP

MIBs

Support for WebStax

Power Management

ActiPHY and PerfectReach power management; VeriPHY cable diagnostics

Serial Port

1 RS-232 port for host interface

Indicator Lights

24 status LEDs, two per port; 2 general purpose

Standalone Cable

Standalone network switch, or in combination with a host computer

General

Power Input

5VDC

Power consumption

10W@12V (Max)

Form factor

COM Express Mini, Type 10

Operating temp

-40°C to +85°C (-40°F to +185°F)

Weight

85.2 grams (3.00 oz.)

MTBF

TBD

RoHS

Compliant

Get an online quote
| | | |
| --- | --- | --- |
| | EPSM-10GX | |

Carrier board design kit (NDA required)