Description
 
Description
The Eaglet (4.0" x 4.0") SBCs combine the Toradex Apalis family of ARM COMs with a wide variety of standard and industrial I/O features to create off-the-shelf solutions for ARM-based industrial embedded computing. Both SBCs include the selected ARM module and heat sink pre-installed on the Eagle or Eaglet baseboard. These SBCs include the selected ARM module and heat sink pre-installed on the respective baseboard.
Eaglet provide long life, scalable platform for ARM-based application development. Customers have great flexibility in selecting not only the price/performance characteristics of the installed COM, but multiple configurations including the number of cores, memory and flash size, and operating temperature range.
  E
aglet SBC features
Supports Tordadex Apalis ARM COMs:
NVIDIA Tegra T30 1.4GHz quad core Cortex A9
MX6 NXP/Freescale 1GHz/800MHz Cortex A9
NVIDIA Tegra TK1 quad core up to 2.2GHz Cortex A15
3-4 USB 2.0 ports depending on ARM module
2 RS-232/422/485 serial ports
2 RS-232 ports
1 Gigabit Ethernet port
VGA, HDMI and dual channel LVDS
HD audio
4 12-bit A/D; 4 PWM
8 digital I/O
I2C, SPI
PCIe MiniCard socket
Compact size: 4.0″ x 4.0″
-40ºC to +85ºC operation capable

Block Diagram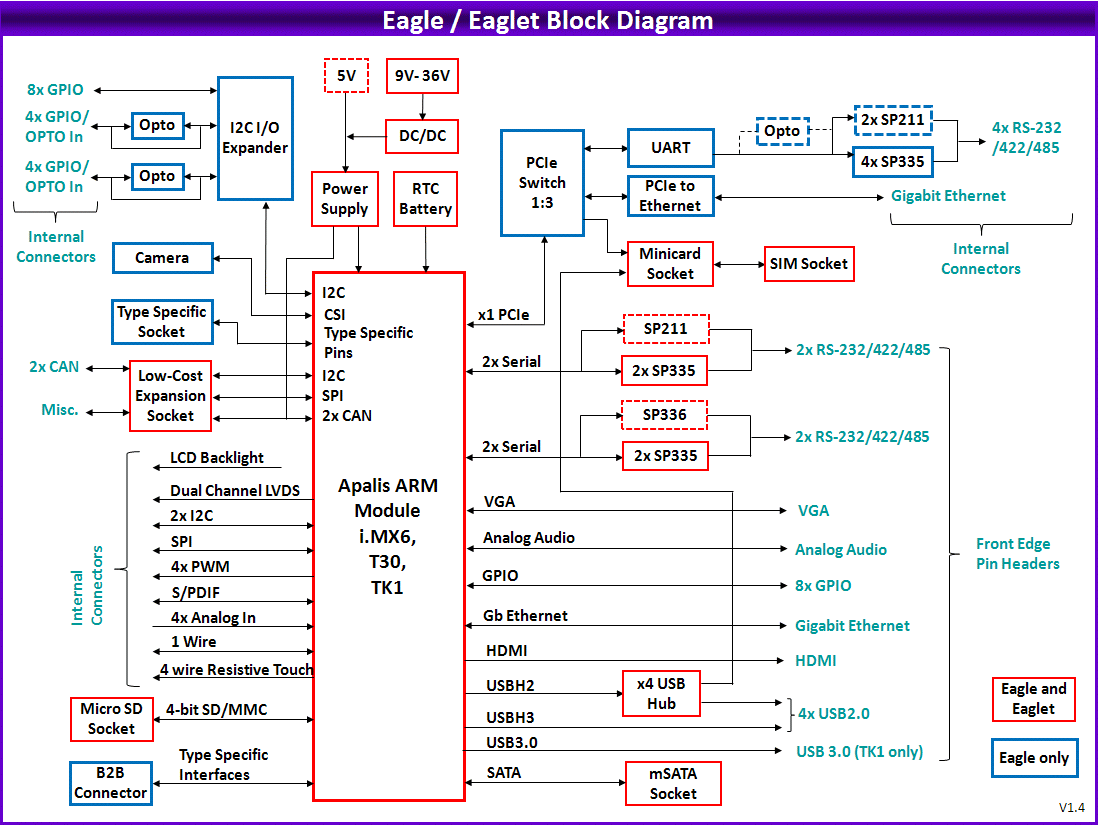 Customization Options
The following customization options are available for the Eaglet baseboard. Minimum order quantities apply.
2 CANbus 2.0 ports via daughtercard
All 4 serial ports programmable RS-232/422/485
Wide range power supply: +9 to +36VDC
Hardwired configuration (no jumpers)
Conformal coating
Connector and feature depopulation

Software Development Kits
Complete Software Development Kits with a bootable operating system are available with all the components you need to get started on your embedded design project. The kit contains a 32GB micro-SD flashdisk for Linux pre-loaded and a software DVD.

Eagle Cable Kit
The Eaglet cable kit includes cables for Eaglet's input and output. Many cables are also available individually.
| | | | | |
| --- | --- | --- | --- | --- |
| No. | Cable | Description | CK-EGL-01 | CK-EGL-02 |
| 10 | 6980523 | Ribbon cable for Utility I/O | 1 | 1 |
| 11 | 6981084 | VGA | 1 | 1 |
| 12 | 6981011 | External battery | 1 | 1 |
| 2 | 6981080 | Gigabit Ethernet RJ-45 | 1 | 1 |
| 1 | 6980520 | Power input | 1 | 1 |
| 9 | 6981169 | Ribbon cable for GPIO, A/D, and misc | 2 | 2 |
| 5 | 6981075 | Dual serial port DB9M | 2 | 2 |
| 4 | 6981082 | Dual USB 2.0 type A | 1 | 1 |
| 8 | 6981076 | Audio | 1 | 1 |
| 3 | 6980100 | Dual USB 2.0/3.0 type A | 1 | 1 |
| 7 | 6980522 | HDMI | – | 1 |

CK-EGL-01
CK-EGL-02
  

Specifications
Specifications

Supported COMs

Toradex Apalis iMX6 800MHz or 1GHz ARM Cortex A9
Toradex Apalis T30 1.4GHz ARM Cortex A9
Toradex Apalis TK1 2.2GHz ARM Cortex A15

Networking

1 Gigabit Ethernet port

Serial ports

2 RS-232/422/485 ports with software configuration
2 RS-232 ports

USB ports

Up to 4 USB 2.0 ports

Mass storage

1 micro SD & 1 mSATA socket

Camera

Video/camera MIPI CMOS sensor interface

Audio

HD audio

Data acquisition

4 12-bit A/D, 4 PWM
8 GPIO, 3.3V logic levels


Connectivity

1 I2C, 1 SPI

I/O expansion

PCIe MiniCard socket (with SIM socket)

Input voltage

+5VDC

Power consumption

12V in: 10.2W
36V in: 10.8W

Operating Temperature

-40°C to +85°C (-40°F to +185°F) capable
Dependent on Apalis COM selected

Shock

MIL-STD-202G compatible

Vibration

MIL-STD-202G compatible

Operating humidity

10-95% relative humidity, non-condensing

Dimensions

4.0" x 5.75" (102mm x 146mm)

RoHS

Compliant

Get An Online Quote
| | | |
| --- | --- | --- |
| | Eaglet ARM SBC | |

EGLT-MX6-Q2G-XT
Eaglet SBC, i.MX6 quad core CPU, 2GB RAM, wide temp
EGLT-T3-Q1G-XT
Eaglet SBC, T3 quad core CPU, 1GB RAM, wide temp
Please click for an online quote request.Please click for an

online quote request
| | | |
| --- | --- | --- |
| | Cables and accessories | |

Eagle / Eaglet Panel I/O Board

Eaglet cable kit, no HDMI cable

Eagle cable kit, with HDMI cable

Eagle/Eaglet Linux SDK for Apalis i.MX6 model

Eagle/Eaglet Linux SDK for Apalis T30 model

Eagle SBC with i.MX6 CPU, Linux OS, and cable kit

Eagle SBC with T3 CPU, Linux OS, and cable kit

Please click for an online quote request.Please click for an

online quote request