Description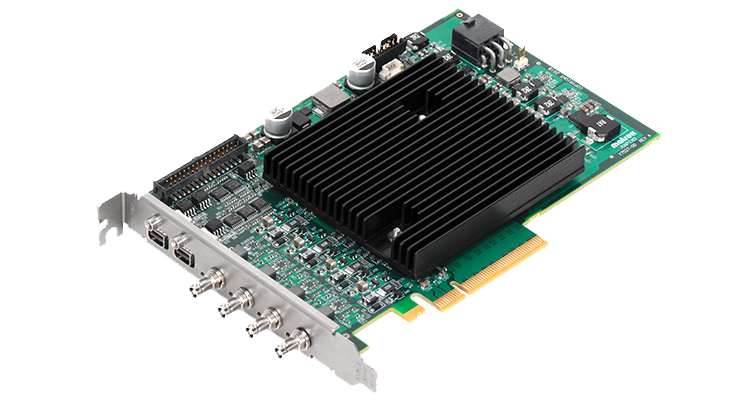 Matrox Rapixo CXP
Matrox Rapixo CXP is a new generation of frame grabbers, supporting version 2.0 of the CoaXPress (CXP) digital interface standard for machine vision applications. The Rapixo CXP series supports data rates of either up to 6.25 Gbps (CXP-6) or up to 12.5 Gbps (CXP-12). A PCIe® 3.1 x8 host interfaces comfortably matches the maximum input bandwidth from the CXP links. The CXP links are accessed through high-density BNC connectors allowing for a homogenous interconnection with new cameras. Power-over-CoaXPress (PoCXP) support on each connection simplifies system configurations, combining the camera's power interface with its command- and data-interface onto the same coaxial cable.
The Matrox Rapixo CXP features four connections for interfacing to independent cameras as well as for handling higher data rates through connection aggregation. The Rapixo CXP series possess sufficient onboard memory to buffer incoming image data in situations where the host computer is temporarily unable to accept data. The fanless design for select models ensures extended use without maintenance.
The Matrox Rapixo CXP makes use of a field-programmable gate array (FPGA) device from the Xilinx Kintex® UltraScale™ family for not only integrating the controlling, formatting, and streaming logic of the various interfaces, but also allowing developers to incorporate Matrox Imaging- or user-developed custom image pre-processing operations to offload from the host computer.
Pairs with MIL2 software
The Matrox Rapixo CXP board supports 64-bit Windows® and Linux®3 through the latest Matrox Imaging Library (MIL) software. The card also acts as a license fingerprint and can store a supplemental license for MIL software, avoiding the need for a separate hardware key.
Field-proven development software
Matrox Rapixo is supported by MIL2 software—a comprehensive software development kit (SDK) with a 25-year history of reliable performance. This toolkit features interactive software and programming functions for image capture, processing, analysis, annotation, display, and archiving operations, with the accuracy and robustness needed to tackle the most demanding applications. Refer to the MIL datasheet for more information.
Matrox Rapixo CXP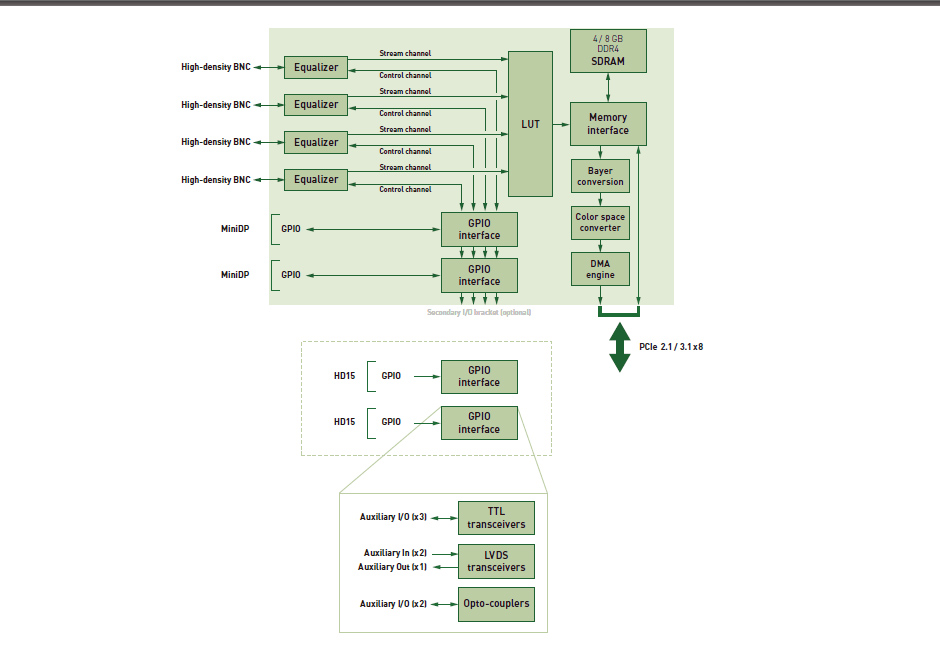 Matrox Rapixo CXP at a glance
Support for the highest speeds available in CoaXPress 2.0
Connect and capture from up to four cameras or combine connections for even higher data rates
PoCXP support simplifies cabling between cameras and vision computer
Offload host computer of custom image processing using FPGA device
Auxiliary I/Os per CXP connection to synchronize with sensors, encoders, and controllers
License fingerprint for MIL software avoids the need for a separate hardware key
Specifications
Hardware

Host interface
Interconnect
PCIe 2.1 / 3.1 x8
Camera/video interface
Standard
CXP version 2.0
Configuration
Four (4) connections
Speeds
1.25 / 2.5 / 3.125 / 5 / 6.25 / 10 / 12.5 Gbps
(CXP-1, 2, 3, 5, 6, 10, and 12 respectively)
Streams
Up to eight (8) total
Connectors
High-density BNC
Power output
PoCXP
From PC power supply via 6-pin connector
Miscellaneous
Connection-status indicator LEDs
Memory
Type
DDR4 SDRAM
Quantity
4 or 8 GB
Purpose
Image buffering and processing
Image processing capabilities
On-board look-up tables
8- / 10- / 12-bit support
On-board Bayer interpolation
GB, BG, GR, and RG pattern support
On-board color space conversion
Input formats: 8- / 16-bit mono/Bayer, 24- / 48-bit packed BGR
Output formats: 8- / 16-bit mono, 24- / 48-bit packed/planar BGR, 16-bit YUV, 16-bit YCbCr,
32-bit BGRa
Custom  processing
Matrox- or user-developed using Xilinx Vivado®
Design Suite and Matrox FPGA Development Kit (FDK
General purpose I/Os
Types
Three (3) TTL I/Os per connector
Two (2) LVDS inputs per connector
One (1) LVDS output per connector
Two (2) opto-isolated inputs per connector
Connectors
Two (2) mDP connectors on main I/O bracket
accessed through a mDP-to-HD15 adaptor
Two (2) HD15 connectors on secondary I/O bracket
Physical
Form factor
Half-length, full-height, PCIe add-in card
Product  dimensions
167.65 x 111.15 x 18.7 mm
(4.376 x 6.600 x 0.74 in)4
Power consumption
20 W (typical)
Environmental
Operating temperature
0°C to 55°C (32°F to 131°F)
Operating relative humidity
10% to 90% (non-condensing)