Description
Headwall's Hyperspec® SWIR integrated hyperspectral sensors offer outstanding hyperspectral imaging performance in the shortwave infrared range of 900-2500nm. Application areas for Hyperspec SWIR include remote sensing (UAVs, aircraft and satellites), advanced process vision, and medical. Headwall Hyperspec SWIR imaging sensor 
Hyperspec® SWIR is built on a totally reflective concentric, f/2.0 optical design that includes aberration-corrected imaging in a lightweight design that is optimized for harsh environments. It provides 384 Spatial bands, 266 Spectral bands, and both Base CameraLink and RS232 connectivity. Headwall Hyperspec SWIR imaging sensor 
Headwall's imaging sensors minimize stray light and aberrations by eliminating transmissive optical components such as prisms. In addition to airborne applications, Hyperspec® SWIR sensors are also suited for laboratory-based Hyperspec Starter Kits and in pan/tilt configurations for stationary deployment.
Applications:
• Airborne environmental monitoring
• LCD/display quality control
• Process monitoring
• Pharmaceutical manufacturing
• Mining & mineral exploration
• Semiconductor inspection
• Remote sensing & analysis
• Waste recycling & sorting
Key Benefits:
• Broad spectral range
• Superb imaging performance
• Exceptional spectral & spatial resolution
• Ideal for low light, low signal applications
• Accurate, consistent spectral measurement
• Compact with very wide field of view
• Extremely high signal-to-noise
• Low scatter or stray light
• Rugged design for durability & stability
• Cost effective deployment
Headwall Hyperspec SWIR imaging sensor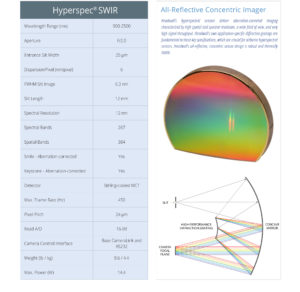 About Headwall Photonics: Headwall is the leading designer and manufacturer of imaging spectrometers and spectral instrumentation for industrial, commercial, and government markets. Headwall's high performance spectrometers, spectral engines, and holographic diffraction gratings have been selected by OEM and end-user customers around the world for use in critical application environments. As a pioneer in advanced, patented optics technology, Headwall enjoys a marketleading position through the design and manufacture of spectral instrumentation that is customized for application-specific performance.
Headwall Hyperspec SWIR imaging sensor